Primary tabs
What is B2FIND?
B2FIND is a discovery service based on metadata steadily harvested from research data collections from EUDAT data centres and other repositories. The service offers faceted browsing and it allows in particular to discover data that is stored through the B2SAFE and B2SHARE services. The B2FIND service includes metadata that is harvested from many different community repositories.
B2FIND allows users to:
Find collections of scientific data quickly and easily, irrespective of their origin, discipline or community
Get quick overviews of available data
Browse through collections using standardized facets

B2FIND features:
based on a comprehensive joint catalogue of EUDAT services  and external metadata
metadata is mapped onto standardized facets
supports faceted, geospatial and temporal metadata searches
allows users to search and browse datasets via keyword searches
results displayed in user-friendly format and listed in order of relevance
access to the scientific data objects is given through references provided in the metadata
initially available for communities in the EUDAT registered domain of data
EUDAT will then extend the service to other interested and reliable data and metadata providers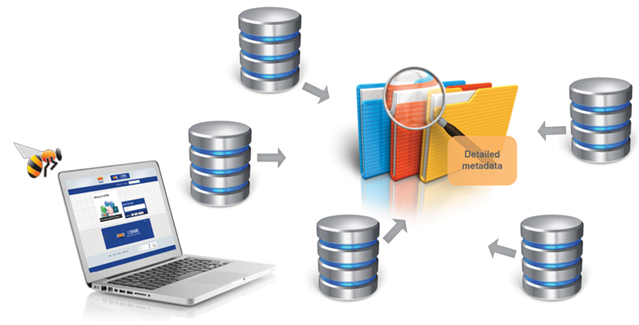 Who benefits from it?
This service is primarily aimed at the many researchers who want to:
quickly find useful data resources which they can use for their research purposes,
build new (virtual) collections of data to address specific research questions,
get quick overviews of available data
share comments on the data and metadata with other users.

How does it work?
Metadata is harvested from metadata providers using standard technologies. The community itself decides which metadata is made available for EUDAT. A sophisticated framework ensures that metadata providers are harvested regularly to always display complete and up to date information.  EUDAT provides an optimized translation from community metadata schema to standard facets in the B2FIND metadata catalogue.

Who can use it?
B2FIND is open to all researchers and scientists free of charge. Research communities who want to provide their metadata to B2FIND should contact us through http://www.eudat.eu/support-request

EUDAT is also interested in helping emerging communities to set up their own metadata infrastructure and help them publish their metadata.
 

B2FIND in the B2 Service Suite