Primary tabs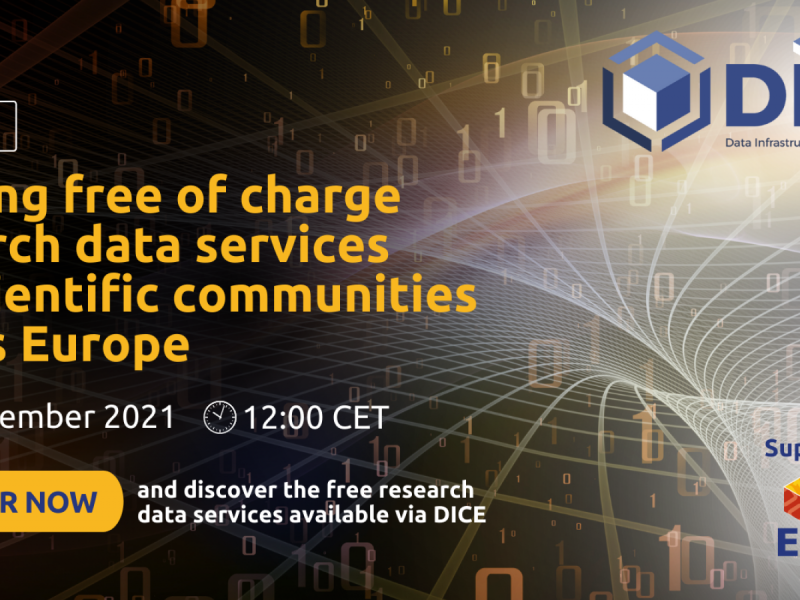 When:
Wednesday, 24 November, 2021
The objective of this webinar is to showcase four DICE services available for different scientific communities. During the webinar, the service providers will present solutions for finding, sharing, storing and publishing research data.  We want to encourage European researchers to take advantage of these and more digital services being made available free of charge by the European Commission. We will give an overview of the Virtual Access funding mechanism, through which the European Commission makes it possible for researchers and research organizations to access services at no cost until June 2023. After June 2023, providers will of course continue to offer their services as part of their mission, under appropriately agreed conditions of use.
Who should attend
The webinar is free and open to all, but researchers and research organizations are highly encouraged to attend, particularly those looking for services that can enable finding, sharing, storing and publishing their research data. Research community managers and repository managers in academic or research institutions may also find the session informative.
Agenda
12:00-12:05   Welcome and introduction  -  John Favaro (Trust-IT) Head of DICE Communications
12:05-12:15   How to receive data services provided by the DICE consortium  -  Antti Pursula (CSC) DICE WP7 Lead
12:15-12:45   DOI registration with Datacite  -  Helena Cousijn (Datacite)
                        Data storage with HSM  -  Nadia Tonello (BSC)
                        Data publishing with B2SHARE  -  Chris Ariyo (CSC)
                        Data discovery with B2FIND  -  Claudia Martens (DKRZ)
12:45-13:00   Q&A  -  John Favaro (Trust-IT)