Primary tabs
What is B2ACCESS?
B2ACCESS is an easy-to-use and secure Authentication and Authorization platform developed by EUDAT. B2ACCESS is versatile and can be integrated with any service. When B2ACCESS is integrated with a given service, the user may log in by using different methods of authentication:
Home organisation identity provider
Google account
EUDAT ID
EUDAT IDs are created by the B2ACCESS upon registration. Therefore B2ACCESS is an Identity Providers for the users that do not have neither a Google account nor a Home Organization Identity Provider. In these cases, B2ACCESS offers also the tool for the managements of the EUDAT IDs.
B2ACCESS can be found here: https://b2access.eudat.eu
B2ACCESS features
B2ACCESS supports several methods of authentication via the users' primary identity providers (OpenID, SAML, x.509)

B2ACCESS can be used as primary identity provider, if necessary 

B2ACCESS can be integrated with any B2service and beyond

B2ACCESS is integrated with EduGain and therefore support identities from theoretically hundreds of Universities and Research institutions around the world.

B2ACCESS provides unique and persistent EUDAT IDs

B2ACCESS

allows group-, community- and service managers to specify authorisation decisions

.
Who benefits from B2ACCESS?
End-users of the (B2) services integrated with B2ACCESS

Community applications that can be integrated with

B2ACCESS to get user identities and attributes for Authorization and Authentication decisions.
How B2ACCESS works
B2ACCESS is based on Unity IDM. The following picture shows the different methods of authentication and the flow within the B2ACCESS system.
B2ACCESS components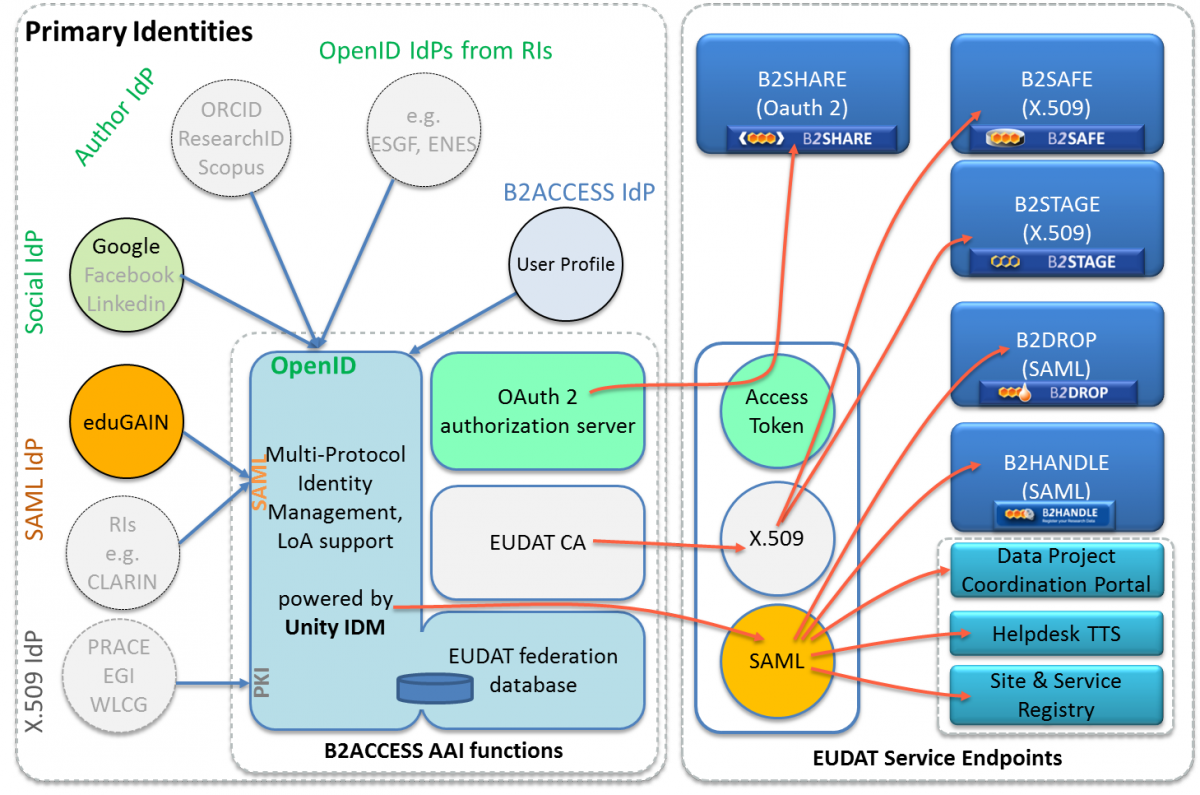 For further information please consult the B2ACCESS documentation.