Primary tabs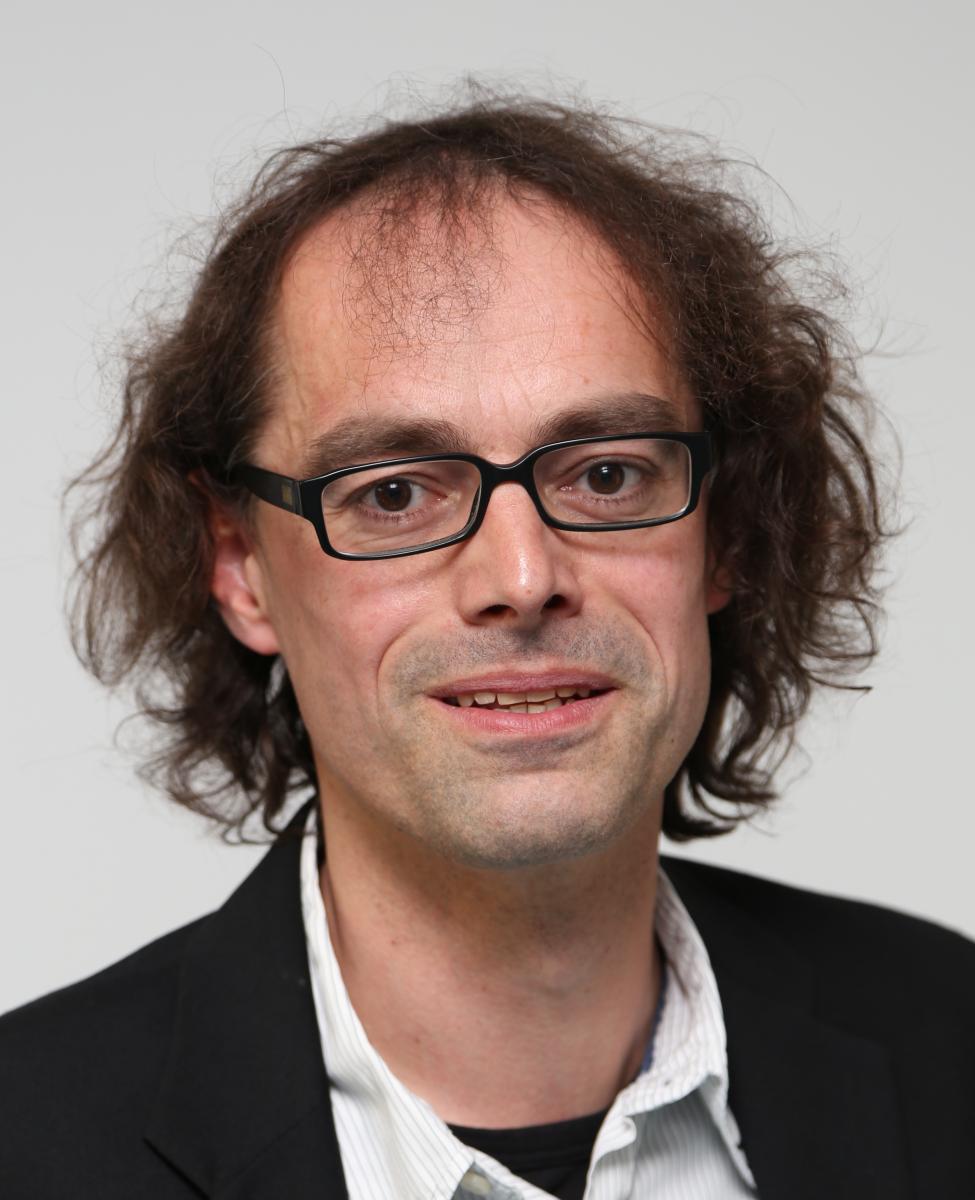 Johannes Peterseil is the Deputy Head of the Department of Ecosystem Research & Environmental Information Management at the Environment Agency Austria (Umweltbundesamt GmbH, Austria) and leads the data management team within the department. Johannes is also the current lead of the Expert Panel on Information Management in the European Long-term Ecosystem Research Network (LTER-Europe). The panel is working on the development of the data infrastructure for LTER-Europe and their main job is to coordinate a multi-national team working on this issue. The requirements for this infrastructure have been defined by the research community within LTER-Europe. This has led to the implementation work, which is being funded by a number of projects on a European scale, including EUDAT. Within the Environment Agency Austria, the team working on this topic is composed of biologists and information technology (IT) experts addressing the interface between data provision and data usage. EUDAT recently interviewed Johannes to find out how LTER-Europe will be using the EUDAT data management services to help establish the LTER-Europe infrastructure.
Good afternoon, Johannes – first of all, would you tell us what LTER-Europe is and what it does?

LTER-Europe  is a regional network within the International Long-Term Ecological Research Network ILTER . ILTER is essentially a "network of networks" which together make up a worldwide network of research sites that are located in a broad range of different ecosystems, so that data collected from the sites can be used to help understand environmental changes across the globe.
Our researchers collect, manage and analyse long-term environmental data – so we have a large number of unique long-term datasets that we are responsible for – and they also run collaborative, site-based projects. We can compare data from our network of sites in Europe and thus detect global trends to help solve international ecological and socio-economic problems.
LTER-Europe has about 420 sites and 30 Long-Term Socio-Ecological Research (LTSER) Platforms in its network, which includes 21 national networks, around 100 institutions and more than 1000 researchers. Our most pressing question is to find ways to secure our "ecosystem services" in Europe in a sustainable way. This means that we look at the drivers of change for the major European ecosystems and socio-ecological systems, and study how the resulting pressures (such as nitrogen deposition) affect ecosystems with respect to their functions, biodiversity and the services they provide us. We are then able to supply information to be used in policy-making processes and management decisions.
Thanks for explaining that, Johannes.  Would you please give us some examples of the types of ecosystems and socio-ecological systems, as well as the ecosystem services, that LTER-Europe's researchers work with?
The site network of LTER-Europe covers a wide range of ecosystem types that are being studied ranging from terrestrial to marine ecosystems. Most LTER sites have forest as the main type of ecosystem that is being studied with fresh water ecosystems as the next most commonly studied type of ecosystem. Although only one ecosystem type is studied at each LTER site, the LTSER platforms cover a whole range of ecosystems that are being studied on a landscape-scale addressing socio-ecological questions. The LTER sites are often nested within the LTSER platform covering the ecosystem scale.
Long-term ecosystem research in Europe strives to provide the missing link between experimental approaches and extensive environmental monitoring in the environmental research infrastructures landscape. In addition to natural scientific research in about 250 benchmark ecosystems across the European environmental zones, LTER includes focal regions for socio-ecological research on human-environment interactions and sustainable use of environmental resources. At all these facilities, LTER research investigates how ecosystems are affected by multiple drivers (such as pollution or changes in climate and land use) in order to identify the main mechanisms relevant for ecosystem functioning and thus identify adaptation and mitigation options.
One example of this type of socio-ecological research considers the trade-off between ecosystem services: all ecosystem services (for example, food production, recreation or water supply) provided by ecosystems at LTER sites are identified, quantified and ranked according to their relative importance. Mechanisms for stakeholder interactions, the balancing of interests and proper consideration of hard facts from natural scientific research are developed and tested. Such projects are carried out at individual sites, but the special strength of LTER is that its hierarchy covers national and continental sites and extends to the global LTER network. A recent project by the Programme on Ecosystem Change and Society (PECS) performed under the auspices of the International Council for Science (ICSU) studied a selection of about 30 sites around the world.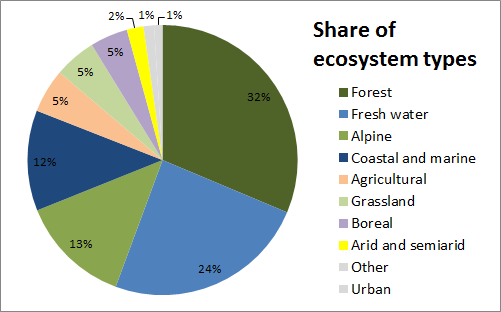 Definitely valuable work that LTER is doing! What types of data do LTER-Europe's researchers work with and what kinds of things do they need to do with that data?
Well, going back to the ecosystem examples that I mentioned earlier, we could, for example, have data that is collected automatically by sensors (such as soil temperatures) or based on human observations (for example, information about the composition of plants species and their coverage within a particular area of forest).
As far as what we need to do with the LTER data, one thing I should make clear is that there is a lot of variation in the sites in our networks and hence in the data management capabilities and IT capacities at our sites. Fairly obviously, if you are out in the middle of the forest measuring soil carbon emissions, you don't usually have a supercomputer in your back pocket. So about 72% of our sites only have basic capabilities where it is possible to do very basic data management (for example, using Excel spreadsheets on a laptop) with no major IT support and infrastructure – typically these are the measurement and observation sites out in nature. Around 22% of the sites in our network are places that have more regular capabilities where researchers have access to well-structured data storage, such as some forms of databases, and the ability to work with metadata – for example, these could be at a university research department. Some places are currently ready to set up data services, but need some support in terms of tools and IT infrastructure. Additionally about 3% of our sites have advanced data handling capabilities and have already implemented comprehensive data management systems that have a range of services already installed, such as the Open Geospatial Consortium Web Feature Service Interface Standard (WFS) and the Web Map Service (WMS). WMS is a standard protocol for serving geo-referenced map images over the internet and WFS is a service that provides an interface which makes it possible to send platform-independent requests for geographical features across the web. One way to understand this is to think of these geographical features as the "source code" behind a map, whereas WMS interfaces (or online mapping portals like Google Maps) only return images, which end-users cannot edit or spatially analyse. Some other examples of services that are available are Sensor Observation Services from the Open Geospatial Constortium (OGC SOS), which provide time series data (such as soil temperature) as a web service ready for machine-to-machine communication and also allow end users to download data, and linkedData (which is a method for publishing structured data so that it can be interlinked and thus become more accessible through semantic queries). These types of services are available through places such as the Terrestrial Environmental Observatories (TERENO) data portal (TEODOR), which uses SOS services to provide time series data, or the Italian national marine research project (RITMARE), both of which hold data from some of the LTER sites.

The LTER-Europe data infrastructure aims to provide access to existing long-term data, as well as providing a repository for data that would not be available otherwise. A typical example of this would be a researcher who is looking for time series information on different ecosystem characteristics, like in-situ deposition measurements, across a geographical gradient and across ecosystem types. The LTER-Europe Data Integration Platform (DIP) will act as a one-stop-shop for LTER data, providing access to existing data sources, and integrating metadata from different nodes. Users will be able to either download data or hook up to data services (such as SOS) that are provided by the LTER community.
This data could be provided either by existing data infrastructures, like TERENO, or by data nodes provided by LTER-Europe. Each LTER data node will be composed of the Drupal Ecological Information System (DEIMS) – which is is the Ecological Research Site and Dataset Registry for long-term observational and experimental data – as a metadata editor and repository, along with data stores for data uploaded to the node. Sensor Observation Services will be used to provide access to time series data as well as geospatial services (like WFS). B2SHARE will provide a repository for file-based data. The plan is that these data nodes will provide a place to publish data from sites with basic data management capabilities. Hence it will be possible to share data with the scientific community which would not be available online otherwise.
Existing standards, such as the Catalogue Service Web (CSW) or Sensor Observation Service (SOS), will be used to exchange information between each data node and the Data Integration Platform. In addition, the DIP will make it possible to visualise selected data from the different nodes using harmonised services.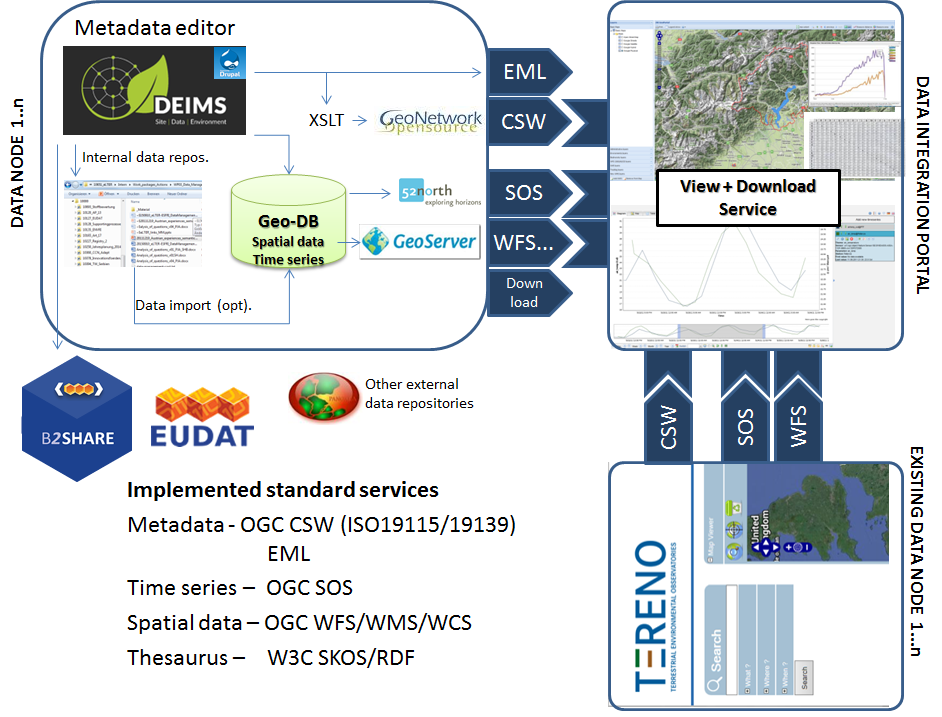 Ok Johannes, now that we have an idea what kinds of things your researchers need to do with their data, which EUDAT services is LTER-Europe going to be using? And what is the uptake plan for adopting these services?
We actually need to use just about the full gamut of the EUDAT common data infrastructure services. We plan on using B2SHARE and B2SAFE for data storage, since we have both small- and large-scale data sets. In addition we plan on using B2STAGE for moving large data sets from storage to high performance computing facilities when we need to use the data for simulations and analyses. And, of course, we want all of our data to be accessible through B2FIND so our researchers and any other researchers interested in using our data can easily find it. In addition, although the B2NOTE service is under development at the time of writing, we are interested in using that for semantic annotation – that is, for adding semantic information to our data. For example, adding terms from a controlled vocabulary (such as the Environmental Thesaurus, EnvThes) to the columns of a structured table and its contents allows for better integration and use of the data. To organise this workflow on the semantic annotation of uploaded datasets, the Generic Execution Framework (GEF) and B2NOTE service could be used. These particular services are under development and we are also contributing to that development task in EUDAT.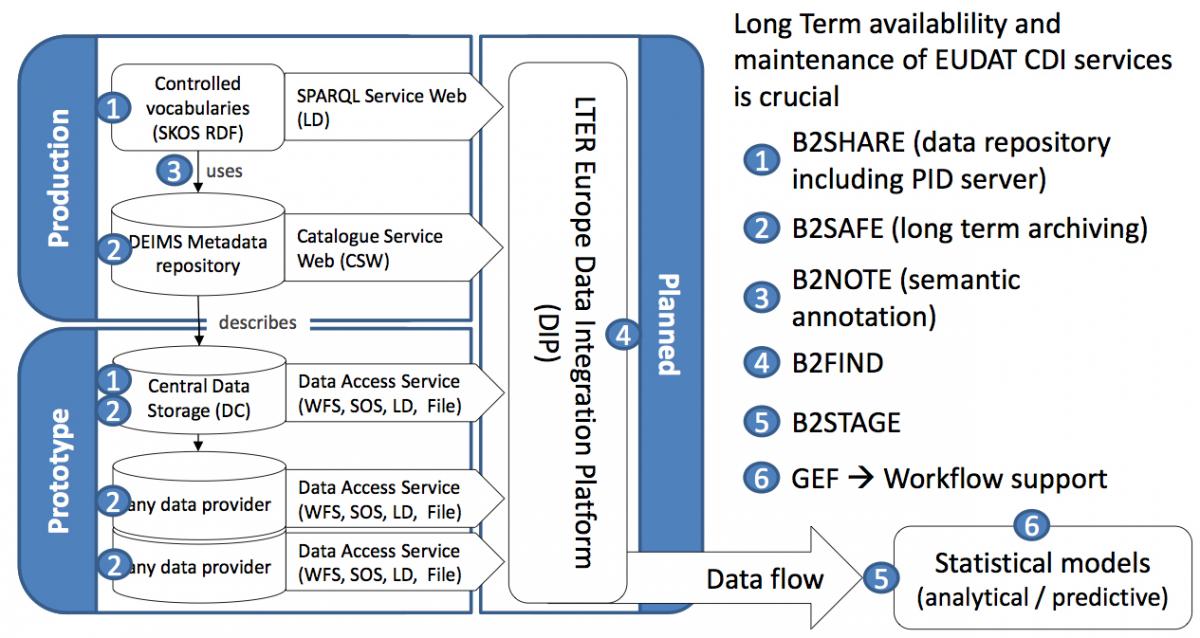 LTER-Europe people have been working on the uptake for several months now, haven't they, so how is the process going?

We are currently working on integrating B2SHARE into the workflows for data submission. B2SHARE will act as a repository for file-based data submission directly linked to DEIMS. DEIMS provides the access point for users to deposit data and provide descriptive information as metadata.
The concepts for the integration are being developed at the moment and a first test has been performed. We hope that a first prototype and the integration of DEIMS will come about in the next months.
As soon as that issue is solved, we will work on the integration of other services like B2FIND and B2SAFE. In addition, as we are part of one of EUDAT's working parties, WP8, we are also supporting the work that is being done on B2NOTE and GEF within the EUDAT project.
And a final question, Johannes - why did LTER-Europe choose to use EUDAT's services?
EUDAT services provide a good alternative to existing solutions. LTER-Europe needed a data repository for storing file-based data. EUDAT's B2SHARE makes it possible to integrate this into the workflows and is thus a good alternative for research infrastructures. From my experience with the project, I think EUDAT will provide useful services, not only to the European research infrastructures, but also to the global research community. However, it is important to get a clear governance and sustainability model established for the management and provision of the EUDAT services in the future beyond the life of the project. This will be a crucial aspect in the success of EUDAT.