Primary tabs
The EUDAT Collaborative Data Infrastructure (CDI), which consists of a European e-infrastructure of integrated data services and resources to support research, has been developed thanks to the collaboration with over 50 research communities spanning across different scientific disciplines. In January 2017, the CDI welcomed 5 new signatories, namely SNIC, CCFE, UCL, Meertens Instituut and The University of Edinburgh. Currently, the EUDAT CDI counts 21 members: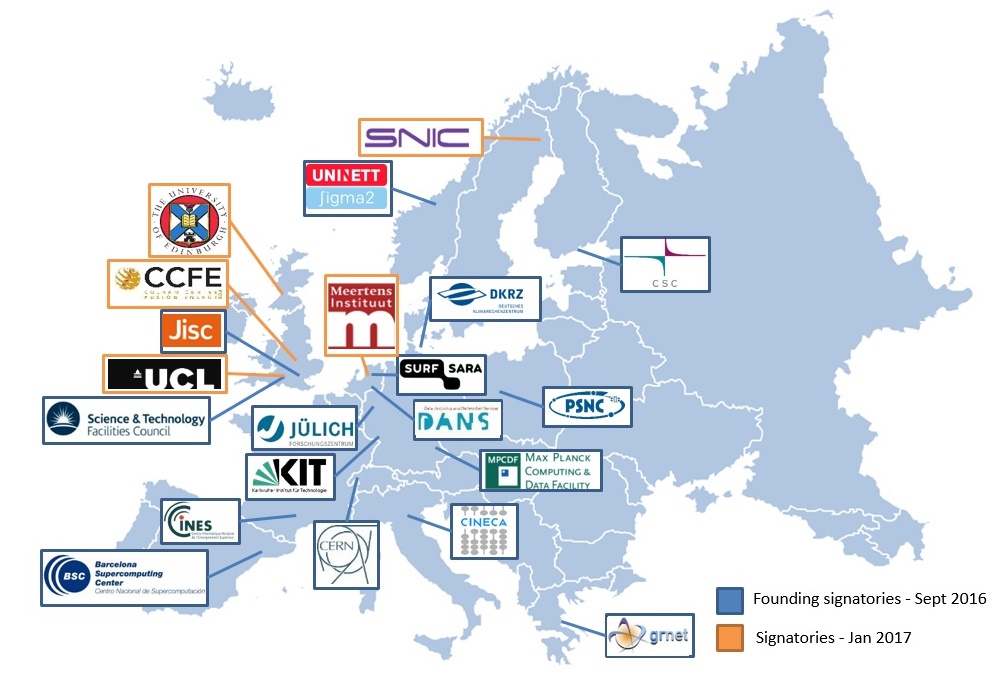 Overview of the new members:
The Swedish National Infrastructure for Computing (SNIC) is a national research infrastructure with a threefold mission:

provide a balanced and cost-efficient set of resources and user support for large scale computation and data storage
meet the needs of researchers from all scientific disciplines and from all Swedish universities and university colleges
make the resources available through open application procedures such that the best Swedish research is supported

The Culham Centre for Fusion Energy (CCFE) is the UK's national fusion research laboratory, based at Culham Science Centre in Oxfordshire, and owned and operated by the United Kingdom Atomic Energy Authority (UKAEA).
The UCL Computational Life and Medical Sciences (CLMS) Network aims to encourage and support collaboration, communication and co-operation between the various domains that promote the development of computational life and medical (basic and clinical) sciences at University College London. 
Based in the Netherlands and established in 1926, the Meertens Instituut has been a research institute of the Royal Netherlands Academy of Arts and Sciences (KNAW) since 1952, where they study the diversity in language and culture in the Netherlands.
The Edinburgh Parallel Computing Centre, based at The University of Edinburgh, is an international centre for excellence in high-performance computing for over 25 years, offering world-class systems, data storage and support services for industry and science.
 
In order to know more about the EUDAT CDI, visit the CDI page.