Primary tabs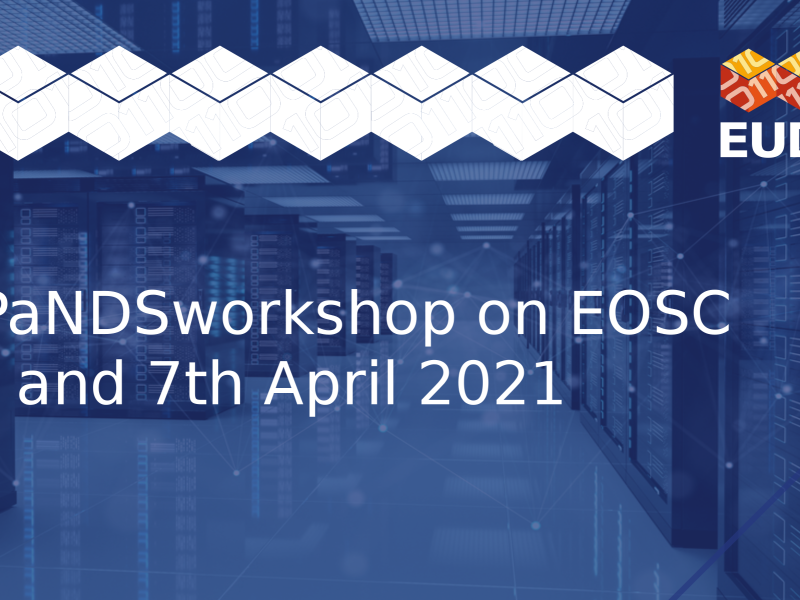 We are pleased to invite you to our next workshop, which will take place on the 6th and 7th April 2021 – How is ExPaNDS delivering its data services to PaNOSC and EOSC.

Topics will range from metadata harvesting by B2FIND and OpenAIRE to publication of our data analysis pipelines in the PaN software catalogue and how EGI services support the PaN community in this endeavour.

We are delighted to have colleagues from EOSC-Nordic, EOSC-Synergy kindly accepting to share with us some of their insights and achievements.
Tuesday, 6 April
10:30 → 10:45 Introduction 15m
     Workshop context and objective
    - Day 1. Data catalogues
    Getting our open datasets harvested by B2FIND and/or OpenAIRE
    - Day 2. Data analysis
    Getting our pipelines in the PaN software catalogue, and ensuring their quality over time
    Speaker: Sophie Servan (DESY)
10:45 → 11:25 How to setup an OAI-PMH endpoint 40m
    Introduction on OAI-PMH
    Implementing / deploying a SciCat OAI-PMH
    The ICAT plugin for OAI-PMH
    Status at other facilities and Q&A
    Speakers: Carlo Minotti (PSI), Rolf Krahl (HZB)
11:25 → 11:30 Break 5m
11:30 → 12:00 Harvesting metadata into B2FIND by EOSC Nordic 30m
    What is B2FIND, how does it work, its challenges
    Improvements and lessons learned with archaeological research data
    Current status for PaN with PSI and Helmholtz examples
    Advantages of creating a B2FIND PaN community (discussion)
    Speaker: Claudia Martens (DKRZ)
12:00 → 12:30 How to register as OpenAIRE service provider 30m
    Speaker: Andreas Czerniak (Bielefeld University Library)

Wednesday, 7 April
10:30 → 11:00 Service Quality as a service by EOSC-Synergy 30m
    Demo of the software quality pipeline (https://www.youtube.com/watch?v=IHKp8EtAFcA&list=PLcS98iVAFmVOTf3oUpbD9x...)
    Speaker: Jorge Gomes (LIP)
11:00 → 11:30 PaN software catalogue 30m
    Short presentation of the catalogue, its new features and sustainability model. Followed by an open discussion session.
    Speakers: Jamie Hall (ILL), Jean-François Perrin (ESRF)
11:30 → 11:35 Break 5m
11:35 → 12:05 EGI services for supporting data analytics services 30m
    We start this session presenting the solutions/tools to support the community needs such as:
    - The EGI Federated Cloud infrastructure
    - The Software and Cloud Marketplaces
    - PaaS orchestrator, Jupyter notebook + Binder support, etc.
    - Data transfer services, ...
    We close the session, presenting some use cases and introducing the process used by EGI.eu to facilitate the resource allocation process.
    Speaker: Giuseppe La Rocca (EGI Foundation)
12:05 → 12:30 Workshop wrap-up 25m
    Speaker: Patrick Fuhrmann (DESY)