Primary tabs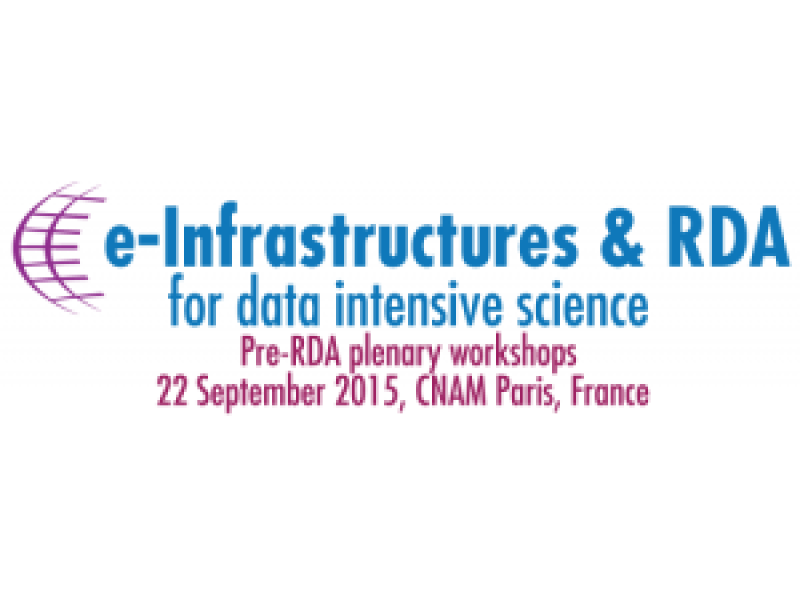 When:
Tuesday, 22 September, 2015
The "e-Infrastructures & RDA for Data intensive science" - pre RDA Plenary workshops organised on the 22nd of September 2015 at the CNAM in Paris are structured around the common understanding on best practices for data management across the globe as an essential step along the path of open sharing of data.
The objective of this event is to gather global experts and representatives of initiatives working towards the common goal of enhancing collaboration on a global level in support of research data sharing. The event embodies 5 "independently" organised workshop streams with common networking and presentation opportunities. Each stream will tackle a specific area while the expected outcome of the 5 individual streams is a concrete contribution to these discussions in the form of future actions and strategic directions from each thematic grouping.
The stream focused on "
Service orientation to data and high-performance computing infrastructures"
 is coordinated by EUDAT through its Project Director, Damien Lecarpentier.
Objectives:
The European Commission has identified the completion of the Digital Single Market (DSM) as one of its 10 political priorities and much effort is being done in aligning strategies and initiatives along the DSM targets. This workshop is a contribution to the discussion on how to implement the DSM from the data and computing infrastructure perspective. With a strong focus on service orientation, the workshop brings together leading e-Infrastructure initiatives to discuss computing and data management trends and challenges, and present available and planned services to address these trends and challenges. The workshop also seeks to identify collaboration opportunities in the emerging digital single market, in particular in the context of the upcoming European research cloud which has been called for by the EC, and at global level between European stakeholders and leading initiatives in the US, Japan, and Australia.
AGENDA
10:00—10:30

The Digital Single Market Strategy and the European scene - Service orientation to data and high-performance computing infrastructures in the context of the "Digital Single Market Strategy", Augusto Burgueño Arjona , Head of Unit, DG CONNECT, European Commission

10:30—11:30

A service orientation to High Performance & Distributed Computing (Part I) 

 

HPC and high throughput computing as a service - Short keynote : Ed Seidel, NCSA Director 

Short presentations from leading European computing initiatives 

PRACE – Alison Kennedy, PRACE Board of Directors, AISBL, EPCC (UK)
ETP4HPC –Jean-Philippe Nominé, ETP4HPC Office, CEA (FR)
EGI – Tiziana Ferrari, Technical Director, EGI.eu (NL)

Short lightning talks from new EC initiatives 

Phenomenal – Kenneth Haug, PheNoMenal project coordinator, EBI (UK)
INDIGO-DataCloud – Davide Salomoni, IndigoDataCloud project coordinator, INFN (IT)

Q&A 

11:30—12:00
Coffee Break
12:00—13:30

A service orientation to High Performance & Distributed Computing (Part II)

Short presentations form leading computing initiatives outside Europe 

XSEDE – John Towns, XSEDE Project Director, NCSA (US) – TBC
ComputeCanada – Mark Dietrich, ComputeCanada CEO (CA)
ROIS – 

Panel: Data intensive science and data management challenges - (all session speakers) 

13:30—14:30
Lunch
14:30—16:00

Virtualizing infrastructures for Data 

Data landscape, challenges and trends - Short keynote: Peter Wittenburg, RZG 

Short presentations from leading data initiatives

EUDAT – Mark van de Sanden, EUDAT Technical Coordinator, SURFsara (NL)
OpenAIRE – Paolo Manghi, OpenAIRE Technical Manager, CNR (IT)
ANDS – Adrian Burton, Director / or / Amir Aryani, Project Manager, ANDS (AUS)  
DataONE – Rebecca Koskela, University of New Mexico, DataONE Executive Director (US)
NDS – Robert Hanisch, NDS, NIST (US) (TBC)

Panel: Data Commons (all session speakers with moderator)

16:00—16:30
Coffee Break
16:30—17:00

Connecting sites, people and content 

GEANT – John Chevers, GEANT Chief Business Development Officer, DANTE (UK)
Helix Nebula – Bob Jones, Helix Nebula coordinator, CERN 
AARC (AAI)– Licia Florio, AARC project coordinator, GEANT (NL)
THOR (DOIs/DAIs) – Adam Farquhar, THOR Project Coordinator, the British Library,  (UK) 

17:00—18:00
Towards the Digital Single Market - Future Steps Panel
Venue: CNAM - Conservatoire national des arts et métiers, 292 Rue Saint-Martin, 75003 Paris