Primary tabs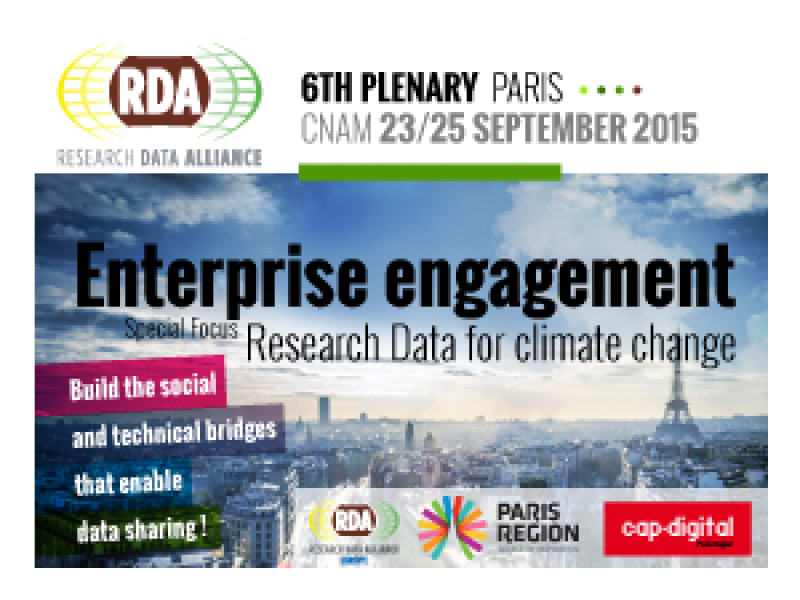 When:
Tuesday, 22 September, 2015

to

Friday, 25 September, 2015
The 6th RDA Plenary will be hosted in the Conservatoire national des arts et métiers (Cnam),  Paris from 23-25 September 2015. The theme of the international gathering of industry and academic experts, pioneers and innovators involved in the data ecosystem will be Enterprise Engagement with a focus on Research Data for Climate Change.
Showcase your activities, service offers and products to an audience working on different issues related to open reasearch data sharing. 
Find out about all the opportunites the RDa 5th Plenary meeting offers including the RDA 6th Plenary Climate Change Data Challenge and the Experimentation Day. 
Co-located with the RDA Plenary, the "e-Infrastructures & RDA for data intensive science" event will be held on the 22nd of September. 
With 5 "independently" organised, workshop streams with common networking & presentation opportunities, the objective of this Workshop is to bring together global experts and representatives of initiatives working towards a common goal of enhancing collaboration on a global level in support of research data sharing.