Primary tabs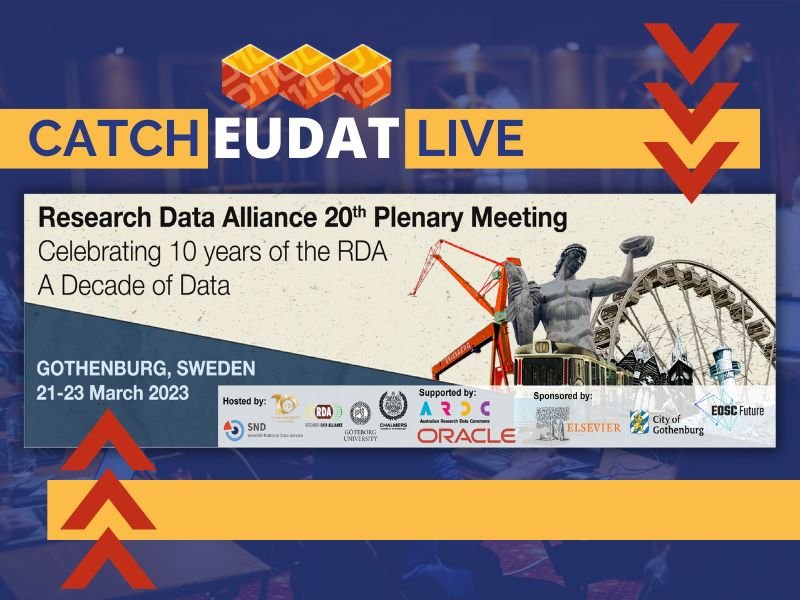 When:
Monday, 20 March, 2023

to

Friday, 24 March, 2023
The Research Data Alliance celebrates its 10th Anniversary Plenary Meeting on 21-23 March 2023 in Sweden, going back to where RDA was launched in March 2013. Following on from the success of the 19th Plenary meeting held in a hybrid format for the first time, P20 will take place in Sweden's second-largest city – Gothenburg.
Hosted by Chalmers University of Technology, the University of Gothenburg and the Swedish National Data Service (SND), a three-day hybrid conference will once again bring together researchers, data scientists, policymakers, and data stewards from disciplines from all over the world to share new ideas and explore best practices in using data. EUDAT is an organisational member of RDA. 
Session: The Role of Middleware in Data and Metadata Management
As part of the plenary programme, EUDAT will present as part of the session, The Role of Middleware in Data and Metadata Management: National and Institutional Approaches Involving iRODS and Alternatives which is being organised in 23 March 2023, 10-11:30 UTC. 
The session Understand and explore the potential of middleware for helping research institutions manage data and metadata, learn from case studies where iRODS and other middleware technologies are already being deployed and exchange knowledge and ideas in a structured discussion session. 
EUDAT B2SAFE Lead Michele Carpene (CINECA) will present "The EUDAT Collaboartive Data Infrastructure - status report".