Primary tabs
Getting to the Venue
The EUDAT Conference will be held at the President Hotel in Athens.
How to reach President  from Athens International Airport
By metro:
President is easily accessible from the Airport via Metro Line 3 (blue line). You may stop at "Panormou" or "Ampelokipi" station. The journey time to "Panormou" and/or "Ampelokipi" station is approximately 35 minutes. It's a 5 minute walk from the metro station to President
Train, metro and tram timetable:
By bus
All buses depart from the arrivals level, between Exits 4 and 5. Bus lane X95 "Syntagma – Airport" brings you to "Ampelokipon square" bus stop. Its around 8 minutes walk from there to President.
The Athens airport is accessible from President via the same bus lane at "Galaxias" bus stop, which is located at 6, Mesogion Avenue.
By taxi
The taxi queue starts from Exit 4 of the Arrivals Level in AIA and extend up to Exit 1. The journey costs €38 euros while for midnight trips the fare is €54.
Other useful links about the venue:
Accomodation
President Hotel (4-Star)
As the event venue, you can use the special discount code "EUDAT22" . To use the code, follow the steps:
Step 1: Click this link
Step 2: Choose your dates, the click "Booking Code" (see image below) and insert the special code "EUDAT22". Note that the special code will only work for the weekends and the same weekdays as the EUDAT Conference. 

Step 3: If the code is accepted, the EUDAT22 room will appear. Book your reservation. IMPORTANT: Please be sure that the name of the credit card used to pay for the room and the guest is the same as the hotel has a strict security policy.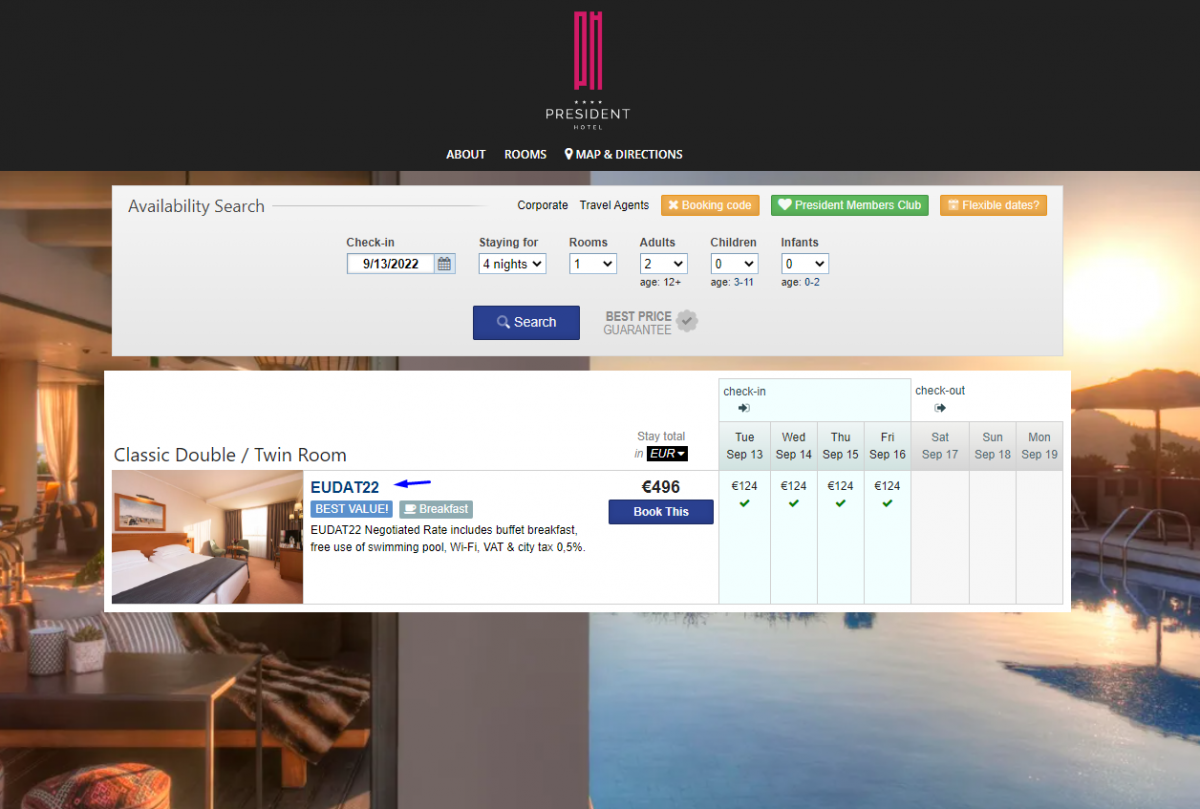 Alternatively, the following accomodation options are within 15 minutes walk of the event venue: